Writing or finding a quote for your print-on-demand product can be a pain in the ass if you're not creative or a native speaker.
Most people end up copying quotes they find on the internet.
Well…it's fine to do that if those quotes are generic and not copyrighted.
But, as you know, the print-on-demand market has existed for many years and tons of products bear the same messages.
For example, "World's Okayest Dad" or "Best Mom Ever".
You can try searching for these two phrases Amazon. You'll find tons of t-shirts or coffee mugs displaying these two quotes.
So, you probably won't make many sales if you use pre-existing quotes to create your own products.
It will be a lot better if you can use new quotes, because your products will stand out from the crowd.
But, as I said earlier, it's not an easy task. You have to be very creative to come up with messages that people like.
You need quotes that make them laugh or cry.
Quotes that touch their hearts.
But it's difficult to write quotes that evoke strong emotions.
What if there was an easier way?
What if there was someone who could write funny or lovely messages for you?
What if all you had to do was "pick the ones you like" and create your own products with them?
Well, that person – um, robot – exists. Its name is A.I. Quote.
It's a writing bot that will help you come up with new quotes. You don't have to sit and think them up yourself.
A.I. Quote will do it for you.
This bot is built with OpenAI, the AI created by Elon Musk and Sam Altman.
It's an open system that we can program to do many useful things, such as write a blog post, develop a chatbot, or even write music!
My team used this AI to build our "print-on-demand writing bot", and we've given it a decent understanding of the print-on-demand market.
We fed lots of info and quotes into it and taught it how to write messages that people will love so we can put them on our print-on-demand products.
So far, we've found that our bot is pretty intelligent.
Well, it was built by Elon Musk, so we're not that surprised. ;)
When using the bot, you just have to describe the message recipient, their gender, the occasion, the tone of the message, and the creativity level you want.
Check out the screenshot below. It's the actual screen you use when you work with the bot.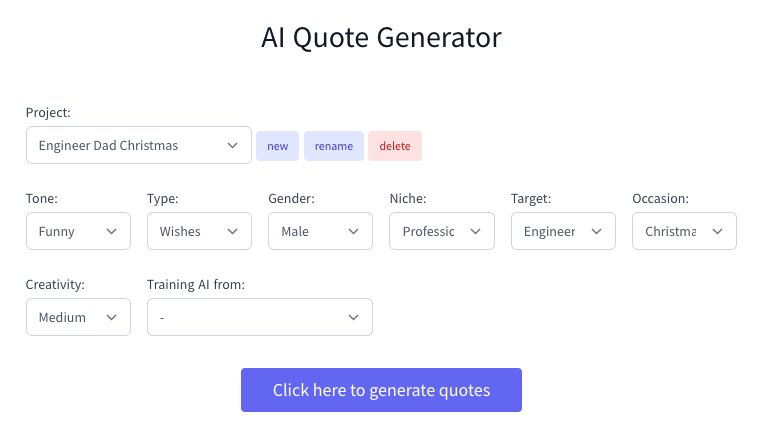 Be careful – if you let it create a quote at the highest creativity level, the quote might be … er, a bit rude. It's quite a naughty bot.
In the screenshot above, I asked the bot to write quotes that people will send on Christmas to their dad, who is an engineer.
Once it has all this info, the bot will come up with some unique messages for you. Then you can choose the ones you like.
Check out some of the quotes I got when I asked the bot to write quotes for engineer…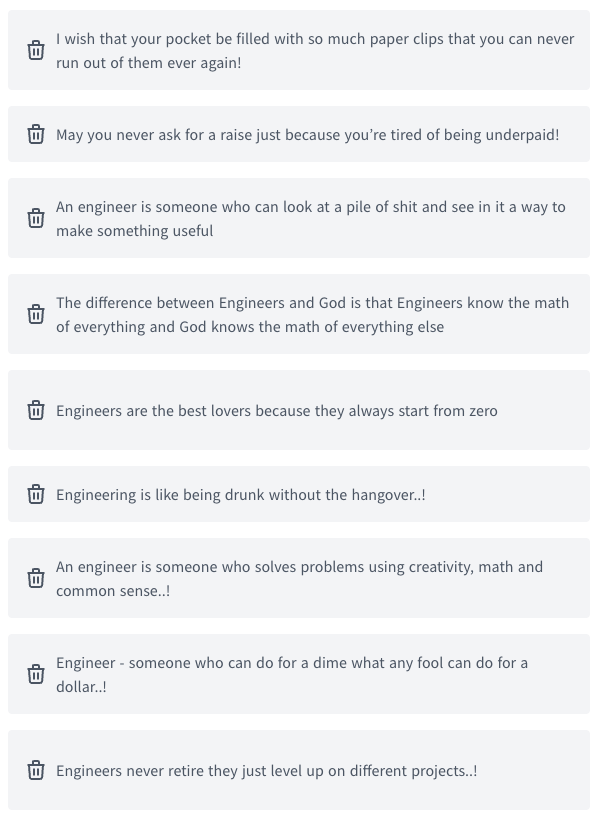 Pretty cool, right!?
I'm pretty sure that you've never seen these messages on products on Amazon or Etsy before.
You can tell the bot which quotes you like and don't like. It will remember your choices and use them to write better quotes that align with your preferred style next time.
We call this "the training process".
You can train the bot to write in the writing style you want.
With this bot:
- You can let the bot write funny or lovely messages that target the niches, occasions, and tones you want.
- You can save time and money by not hiring a human to write quotes for you.
- You'll be able to get many new creative quotes that no one in the market has used before.
Sounds good, right?
Just let A.I. Quote take care of all these boring tasks so you can focus on what really matters - growing your business!
Anyhoo…
I have some bad news.
We have to limit the number of users who get access to A.I. Quote.
Because we want to maintain the freshness of the results and the creativity of the bot, only 25 people will get access to this bot.
You read that right.
Only 25 people.
When all the spots are filled, the gate will close automatically.
So, if you want to be one of them, click the button below to sign up.
All right ... it's play time!
Talk soon,
Bank K.
P.S. Stop spending so much time writing quotes by yourself... let A.I. Quote write them for you!